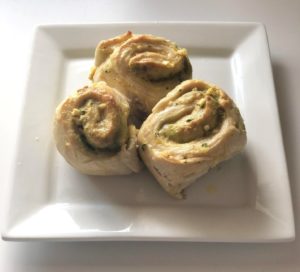 By Callie Showalter, VRG Intern
Makes 10 rolls
Ingredients:
For the dough:
2¼ teaspoons instant yeast
1 Tablespoon organic cane sugar
1½ cups lukewarm water
3½ cups flour
2 teaspoons salt
For the creamy "cheese" sauce:
¾ cup raw cashews, soaked overnight
3 Tablespoons nutritional yeast
1/2 lemon, juiced
1 teaspoon dried garlic powder or 2 garlic cloves, minced
1 teaspoon salt
¼ cup water or unflavored plant milk
For the spinach-pesto mixture:
2 cups fresh basil, chopped
1 cup baby spinach, chopped
1/3 cup pine nuts
2 large garlic cloves, minced
¼ cup olive oil
¼ cup nutritional yeast (may sub shredded vegan parmesan)
1 teaspoon salt
½ lemon, juiced
To assemble:
Start by whisking the yeast and sugar into the warm water, and let sit until you see bubbling (this tells you the yeast is activated). Whisk together the flour and salt in a large bowl, and then pour in the water mixture. Use clean hands to mix the ingredients and form a ball. Add flour as needed so that it is not sticky.
Oil a bowl and place the dough in to proof, and then cover the bowl with a towel. Place in a warm area until the dough has doubled in size, about an hour.
While your dough proofs, add your cheese sauce ingredients into a blender or food processor. Blend until smooth, and set aside. In the same blender/food processor, add all your pesto ingredients and pulse until well combined. Set pesto aside.
Preheat oven to 375 degrees Fahrenheit. On a clean, floured surface, roll the dough into a rectangle about ½-inch thick. It will be about 20 inches long and 14 inches wide. Spread the 'cheese' sauce, followed by the pesto, evenly across the dough, leaving a ¼-inch perimeter of dough without sauce. Roll the dough—starting from the long side— into a log, and cut into about ten 2-inch pieces.
Arrange rolls in an oiled 8- x 8-inch glass baking dish, and bake in the oven for 30-33 minutes.
Optional: After they are cooked, brush rolls with vegan butter and top with more vegan Parmesan or nutritional yeast.