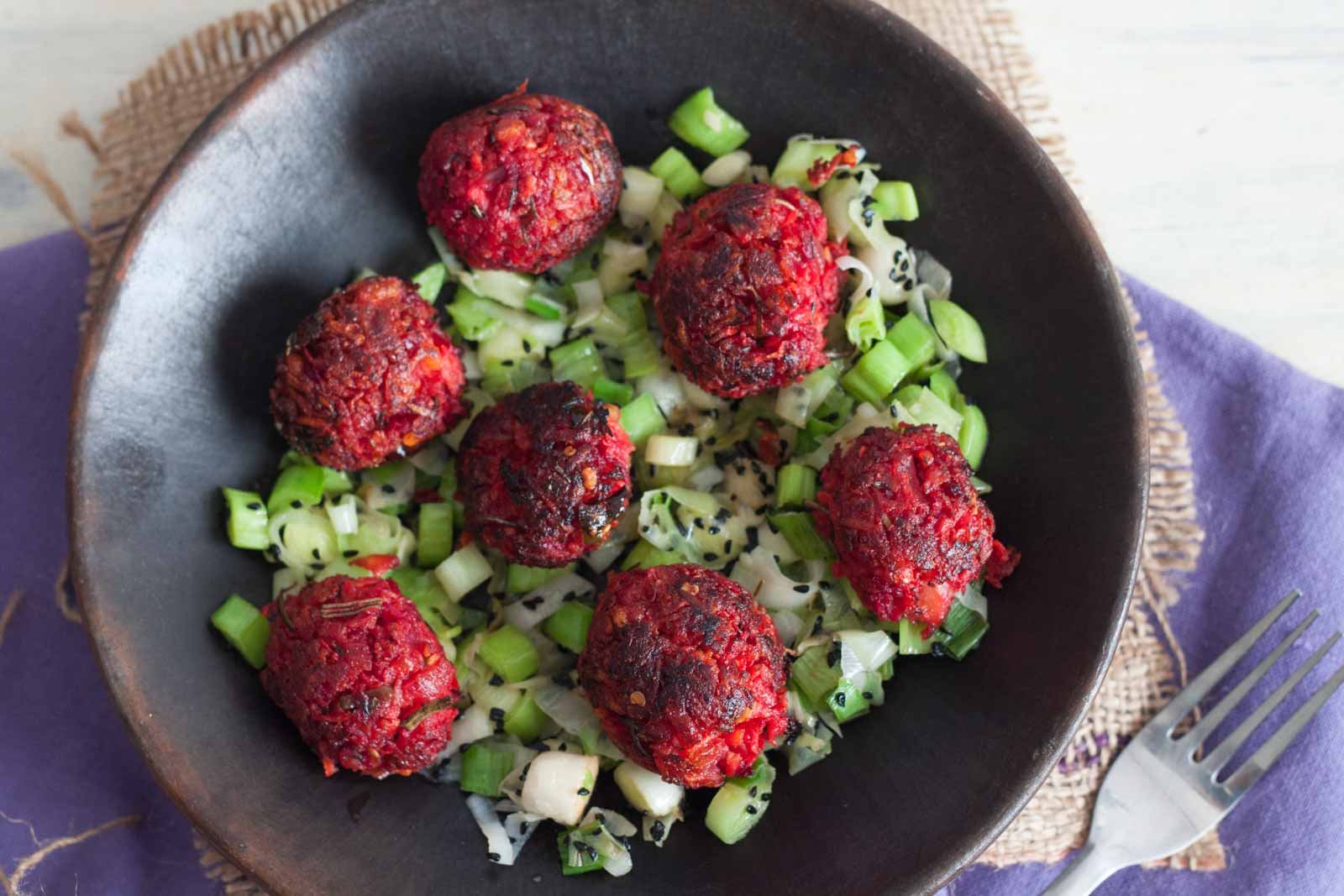 Course: Lunch
Diet: Vegetarian
Prep in
10 M
Cooks in
25 M
Total in
35 M
Makes:
4 Servings
Ingredients
1

Leek

, thinly sliced
1 teaspoon

Black sesame seeds

1 teaspoon

Butter (Salted)

2

Carrots (Gajjar)

, pelled and grated
1

Beetroot

, peeled and grated
50 grams

Paneer (Homemade Cottage Cheese)

, crumbled
1 inch

Ginger

, chopped
1

Onion

, chopped
1 teaspoon

Dried oregano

1 teaspoon

Tarragon

1 teaspoon

Rosemary

2 teaspoon

Red Chilli flakes

1 teaspoon

Honey

2 tablespoon

Gram flour (besan)

Salt

, to taste

Oil
How to make Beetroot and Carrot Veg balls with sautéed leek Recipe
To begin making the Beetroot and Carrot Veg balls with sautéed leek Recipe, we will keep all the vegetables ready.

Heat a skillet with oil, add ginger and allow it to soften. Add onions and stir fry till they turn translucent.

Add grated carrot and beetroot and saute till they are cooked. Add paneer along with all the dried seasonings and salt.

Add honey and chickpea flour and give it a stir. The mixture will become soft and sticky.

Switch off the heat. Heat a kuzhi paniyaram pan with oil to fry. Once the veg ball mixture cools down. Shape them to balls and place it in each cavity and fry evenly till Beetroot and Carrot Veg balls crisps up.

Once done keep it aside. Do the same for the rest of the mixture.

Heat a flat skillet separately with butter, add black sesame seeds and add sliced leeks into it.

Saute till it softens add salt and stir well. Place the sautéed leeks first over a plate and then place your crispy vegetable balls on top.

Serve the Beetroot and Carrot Veg balls with sauteed leek Recipe along with some Tzatziki dip or Mexican Chilli & Cheesy Bean Dip Recipe with a bowl of Potato and Spring Onion Soup Recipe and Baked Creamy Potato Gratin Recipe for Sunday brunch.
Last Modified On Thursday, 02 September 2021 05:30