Published: Aug 31, 2021 · Modified: Aug 31, 2021 · This post may contain affiliate links.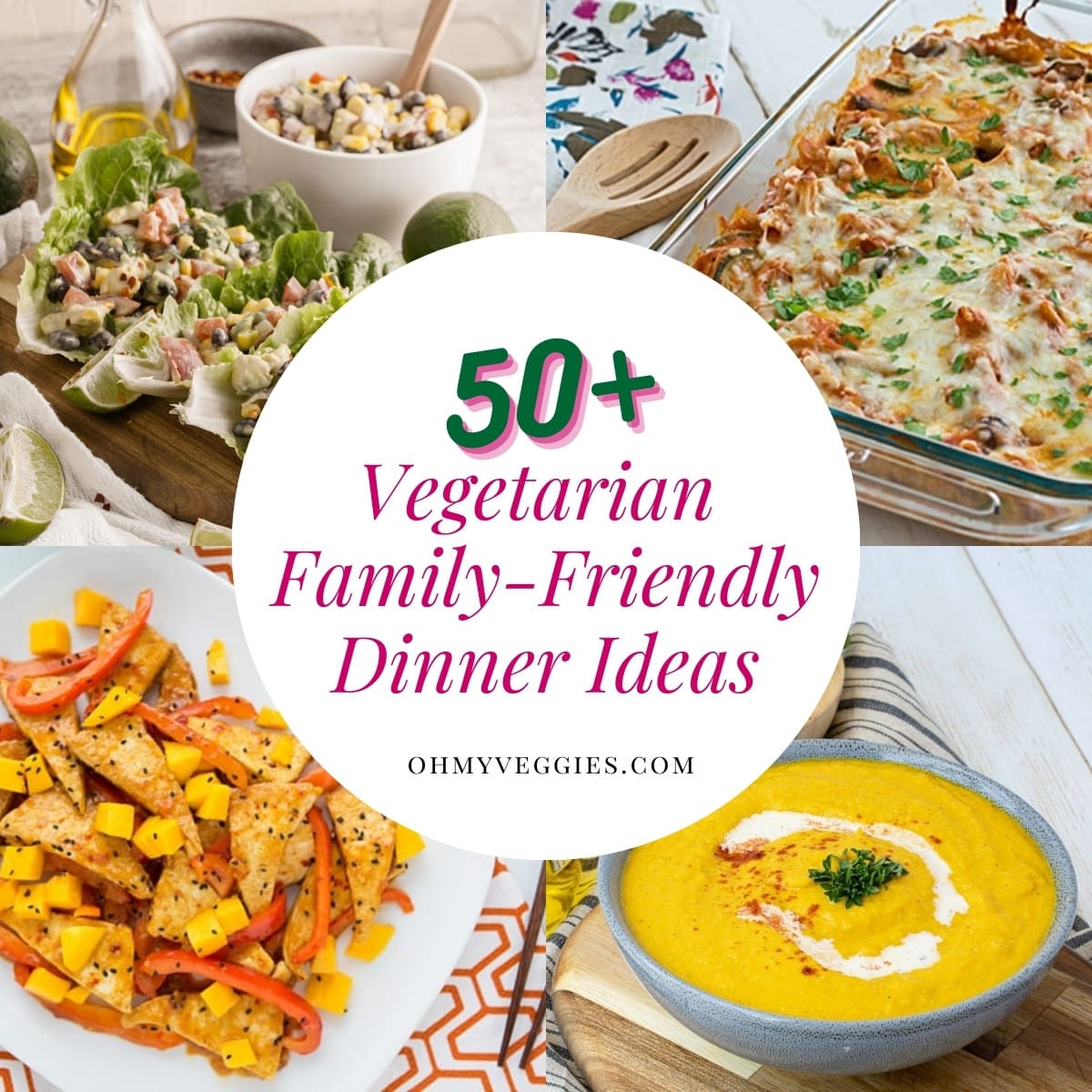 It can be a challenge to whip up a dinner that is both vegan and appealing to everyone in the family. But today you're in luck! This list of 50+ vegetarian family-friendly dinner ideas has a meal to fit everyone's tastes—from soups to stir-fries to salads!
Vegetarian Family-Friendly Dinner Ideas
This list of 50+ vegetarian family-friendly dinner ideas has a meal to fit everyone's tastes—from soups to stir-fries to salads!
Ditch the bread for lettuce with these enticing Vegan Lettuce Wraps. They are loaded with black beans and sweet corn and smothered in a rich and creamy vegan mayo. These tasty wraps are crunchy and slightly sweet!
This tasty dish can be served as a side or an entrée. These Spanish Rice and Beans are gluten-free and great for potlucks and backyard barbecues. In this dish, you will enjoy delicious spices such as cumin, chilli powder, and oregano that really bring this dish to life!
This vibrant Vegan Carrot Ginger Soup has an absolutely delicious flavor. Enjoy the taste of carrot, ginger, onions, and herbs as they dance together in this recipe. This soup is vegan and made with wholesome, healthy ingredients. As a plus, this soup is easily customizable to reflect the spices your family love.
This sweet and spicy Mango-Chili Tofu Stir-Fry will be a delicious addition to your weekly dinner menu. It's effortless to prepare and has thirteen grams of protein. The stir-fry is a gorgeous vibrant orange-ish color and gives off a delicious aroma as it cooks, filling your house with scents like garlic and red pepper.
This light and tasty Fresh Corn soup with Herbed Croutons makes for a delicious dinner. Topped with delicious toasted croutons, this soup is slightly sweet with a surprising taste of fresh herbs!
Lentils are a fantastic source of protein, and they are one of the main ingredients in these delicious burgers. These Vegan Lentil Mushroom Burgers are healthy and filling. When it's time for dinner, set out freshly chopped vegetables so everyone can fix their own burger exactly how they like it!
These Vegetarian Thai Veggie Burgers are prepared with enticing and aromatic Thai spices. The texture of these veggie burgers is perfect, and they cook in only ten minutes!
This Smoked Cheddat Mac & Cheese with Baked BBQ Tofu is best prepared using extra-firm tofu. Delicious and cheesy, this mac & cheese has thirty grams of protein, making it exceptionally healthy and filling!
This wonderful recipe combines cauliflower and hummus to create a burger with bold flavor. These Cauliflower Hummus Burgers with Mint Tzatziki are moist and quick to prepare and cook. They make a great addition to your weekly menu!
If you're looking for a light, refreshing—but still filling—dinner for your family, then look no further! These Classy Open-Faced Veggie Sandwiches are luscious and delightful.
This Vegetarian Vegetable Baked Ziti is low in calories and takes only twenty minutes to prepare. It is loaded with fresh vegetables and a creamy, addicting sauce. Just prepare for this beautiful casserole to be devoured in minutes!
Finally—a pizza recipe that doesn't require hours! That's what you get when you make this Portobello Pizza with Roasted Garlic Sauce and Kale. With a gorgeous golden brown crust, this pizza is made with healthy ingredients like kale, portobello mushrooms, and garlic.
This delicious casserole will be an excellent addition to your weekly menu. Smoky and sweet flavors combine in these delicious Tofu Enchiladas with Sweet Potato in Mole Sauce. They require only twenty minutes to prepare and are so tasty that everyone at your table will love them!
This delectable Creamy Vegetarian Pasta only requires a short amount of time to prepare. Serve this dish with a vibrant garden salad for a more hearty meal. This recipe is super healthy with twenty-two grams of protein!
You can toss this meatloaf together in only fifteen minutes! This Beans and Walnuts Vegan Meatloaf is made with nutty chickpeas, white beans, and breadcrumbs. Even better, this recipe boasts incredible spices like oregano and thyme.
This Vodka Pasta Sauce is creamy, smooth, and comes together in only twenty minutes! Serve it with your family's favourite pasta for an absolutely delightful meal.
This Easy Chickpea Pot Pie is a cozy, warm meal to serve to your family. It's healthy and loaded with unique wholesome ingredients. This pot pie is ready to eat in only twenty minutes, making it a great meal to have on your weekly menu.
This delicious combination of squash and zucchini creates a delightful sandwich. These Boubon Mango Pulled Summer Squash Sandwishes are slightly smokey with a touch of sweetness—and they take only twenty minutes to prepare!
These Vegetarian Red Beans and Rice Burritos are very filling, making them an excellent choice for family dinner! They require only ten minutes to prepare and twenty minutes to cook. Top these rice burritos with some sour cream and salsa for the best taste!
This cheesy dish is sure to be a favorite in your family! Topped with a crunchy breaded topping, this Baked Vegan Mac and Cheese requires only ten minutes to prepare. It's ooey-gooey, cheesy, and has ten grams of protein—which makes this dish the ultimate comfort food.
This Freezer-Friendly Vegetarian Chili is packed with healthy vegetables. In this chili, you'll find yellow squash, zucchini, and diced tomatoes. Enjoy the health benefits of beans as they peek through in each bite. This vegetarian chilli also features terrific spices such as cayenne and chili powder. This chili is a cozy, warm, delightful meal!
This Jamaican Chickpea Stew is savory and nutrient-rich. This recipe comes together in only twenty minutes and is very filling.
This dish is creamy and rich. Use your favourite noodles to create these decadent Creamy Meatless Tomato Egg Noodles. This dish is a low-calorie meal to feed your family and is loaded with 21 grams of protein. It will keep your family full—even the ones with enormous appetites!
Enjoy fluffy potatoes and delicious seasonings in this Lentil Meatlesss Shepherd's Pie. This vegetarian dinner is nutrient-rich and a bit sweet. Enjoy every bite of this mouthwatering comfort meal the next time you need a dinner idea!
This simple recipe is luscious and meatless. It's made with mozzarella cheese and macaroni noodles tossed in a tomato sauce. This No-Meat Chili Macaroni is savory and classic.
This mouthwatering soup is precisely what your family needs to come home to at the end of a cold day! Chard, Lentil, & Potato Slow Cooker Soup is packed with incredible taste.
This recipe delivers everything you need in a meal: comfort, taste, and aroma. Fresh citrus peeks through in this tasty Lemony Asparagus Risotto. This dish is light, nutritious, and low calorie—and it takes only ten minutes to toss together!
This Cauliflower and Tofu Lasagne with Butternut Squash Sauce is a decadent dish. While it does take some time commitment to prepare and cook, it's packed with protein and vitamin C. This tofu lasagna recipe gives your family layers and layers of delicious goodness!
Move over sloppy joes and make room for Sloppy Lentils! This vegetarian dinner is super versatile. It can be eaten as a side dish to accompany your entrée or as a replica sloppy joe in an oversized wheat bun. These Sloppy Lentils are messy and delicious, no matter what way you eat them!
This vegan take on the much-loved fettuccine alfredo is tasty and sure to please even the meat-eaters in your family. Thanks to delicious cashew cream, this vegan Sun-Dried Tomato Futtuccine Alfredo is light but still incredibly rich and intensely decadent.
This fun dinner will excite your entire family! Colorful, vibrant, and loaded with protein, this Ultimate Vegan Taco Salad is hearty and customizable. Add your favorite fresh vegetables to complete this dish for your table!
This creamy dish is packed with flavor and requires only ten minutes to prepare. Tortellini with Roasted Pepper Sauce is the perfect pasta dish for a busy work week. For a heartier meal, serve this dish with your family's favorite salad or soup.
Mozzarella and parmesan combine in these Delicious Three-Cheese Stuffed Shells. This meal is delightful and loaded with melted cheese, fresh basil, and delicious marinara sauce. It requires only fifteen minutes to prepare, making it an excellent choice for a busy weeknight dinner.
This autumn-inspired Apples and Carrot Soup makes for the perfect cozy meal. It's thick, creamy, and loaded with healthy vegetables. This soup takes only fifteen minutes to prepare and then simmers for forty, letting off an enticing and delicious aroma.
Top these tacos with cilantro, salsa, shredded cheese, and all your other favorite taco toppings to create the most delicious family taco night! These tacos are stuffed with soft sweet potato, onion, and delicious spices like ground cumin and black beans. These Roasted Sweet Potato & Black Bean Tacos are nutrient-rich and something you can feel good about serving your family.
Here is a vegetarian twist on a classic favorite that is sure to delight everyone you're serving. Veggie Spaghetti is exactly what its name suggests: vegetable-loaded spaghetti. This recipe features spaghetti made from carrots and zucchini tossed with cherry tomatoes, pine nuts, and olive oil and seasoned to perfection.
These delicious sandwiches taste like mouthwatering, savory, meaty barbequed sandwiches. However, they are completely vegetarian! Smokey-sweet, these Chipotle Peach BBQ Farro Sandwiches will be devoured rapidly.
This recipe produces a beautiful Vegetarian Salisbury Steak. An exquisite combination of mushrooms, lentils, and oats form the steak. Each "steak" is seasoned with garlic powder, thyme, and so much more. Serve this dish with your family's favorite side for a complete meal.
If you need an effortless but delightful meal, then you've just found it! This Cheese Tortellini Bake with Roasted Broccoli is simple, easy, and oh-so tasty. Toss all the ingredients together and bake! How can dinner be simpler than that?!
This Greek Polenta Lasagna makes for a delicious and satisfying meal. It's made with spinach, roasted red peppers, olives, and your favorite marinara.
One-pot anything is incredible (aka fewer dishes!), but this recipe takes "one-pot" to a new level. In this One-Pot Pasta Primavera, you'll find asparagus, broccoli, mushrooms, and so much more. Topped with a slight sprinkle of parmesan cheese, this one-pot vegetarian family dinner is packed with nutrients and flavor!
Have guilt-free second helpings when eating these Lemon-Garlic Zucchini Noodles with Roasted Tomatoes! These zucchini noodles are tossed in an exquisite lemon-garlic dressing with small pieces of roasted tomato peeking through in each bite.
Comfort and coziness served in a bowl—that's precisely what you're getting with this fantastic Creamy Roasted Garlic and Mushroom Soup. This soup is creamy, rich, and full of flavor from two different strains of mushrooms. Requiring just fifteen minutes to prepare, this soup is a beautiful, warm meal to serve any day!
This Tortilla Pie with Black Beans & Zucchini is moist and juicy. The recipe comes together in only fifteen minutes, and it's loaded with ooey-gooey cheese! This pie has 18 grams of protein and 5 grams of fibre, and it's packed with amazing vitamins. This tortilla pie is a beautiful—and nutritious—meal to serve your family!
A uniquely refreshing pasta dish, this Kale Pesto Pasta with Burst Cherry Tomatoes packs a punch. Flavors from pecans, lemon juice, cherry tomatoes, and cheese all come together in this dish. It's enticing and very aromatic.
Next taco Tuesday, try out this delightful recipe and surprise your entire family! Enjoy a filling of soft, juicy spaghetti squash and homemade avocado slaw in your tacos. These Pulled Spaghetti Squash Tacos with Avocado Slaw are low-calorie and have 9 grams of protein. In addition, they are loaded with helpful vitamins and nutrients!
This Teriyaki Chickpea Stir-Fry is elaborately vibrant. It looks like autumn in a frying pan and is equally satisfying to the nose as to the eyes! This dish takes just ten minutes to prepare and fifteen minutes to cook. It's quick, simple, and super tasty! This stir-fry is a recipe you must add to your weekly dinner menu.
This recipe makes a pasta dish that's creamy, spicy, and vegan. To top it off, this Creamy Vegan Cajun Pasta is tossed in thick, decadent cashew cream.
This delightful pasta dish requires only ten minutes to prepare and fifteen minutes to cook it! Pasta with Cheese and Broccoli is a simple meal for the busy family, and it's topped with delicious cheese (or whatever you choose)! This pasta dish makes for a beautiful vegetarian family dinner.
This vegan soup is creamy, thick, and rich—all the makings for a delicious soup! Cream of Cauliflower Soup is quick to put together and is extra tasty!
These fantastic Freezer-Friendly Greens and Tofu Wraps are nutrient-rich and very filling. They make for an incredible vegetarian family dinner, but they also freeze perfectly, making them perfet for meal prepping breakfasts and lunches as well!
This Vegan Ramen Noodle Soup is a well-balanced, healthy meal. It comes together in only ten minutes and cooks for the same amount of time. This comforting, cozy bowl of soup is made with tasty ingredients like mushrooms, maple syrup, and ramen noodles.
This Vegetarian Shipwreck Casserole is a combination of onion, tempeh, tomato soup, and more. This recipe creates a delicious messy casserole that your family is sure to adore!
Reader Interactions