Published: Aug 28, 2021 · Modified: Aug 28, 2021 · This post may contain affiliate links.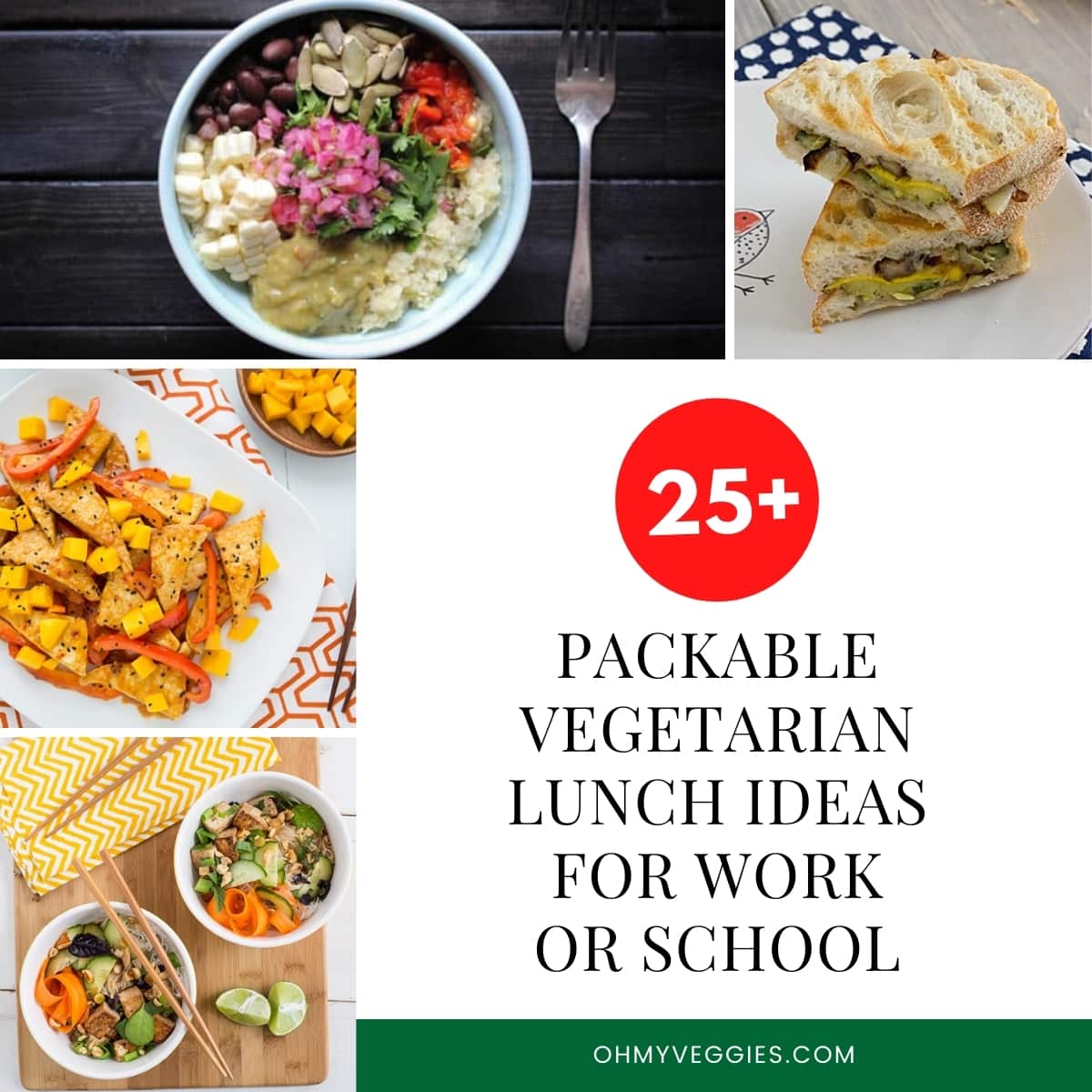 From sandwiches to salads, there's a refreshing—and packable—lunch option for you and your kids! This list of 25+ packable vegetarian lunch ideas for work or school will help you get out of the same-old-lunchbox-meals rut.
Packable Vegetarian Lunch Ideas For Work or School
This list of 25+ packable vegetarian lunch ideas for work or school will help you get out of the same-old-lunchbox-meals rut.
Serve these Vegan Caprese Sandwiches with Garlic Cashew Cheese on crusty baguettes. Slathered with creamy garlic cashew cheese and tangy, juicy tomatoes, these cheesy sandwiches make for a delightful lunch!
The delicious vegetables in this sandwich are first marinated in pesto and then roasted. This makes the vegetables very flavorful! Grill these Pesto-Roasted Veggie Sandwiches on sourdough bread to give them more flavor. These sandwiches do take some time to prepare, so make sure to plan for the needed time.
These Roasted Red Pepper and Mozzarella Sandwiches can be enjoyed hot or cold—perfect for making the night before for lunch! This sandwich features slightly sweet roasted red peppers and soft mozzarella cheese.
This recipe will give you a delicious sandwich with breaded zucchini. It requires only ten minutes to make and is incredibly nutrient-rich! Loaded with 25 grams of protein, these Zucchini Parmesan Sandwiches will keep you satisfied and full.
These delicious Grilled Sweet Potato and Vegetable Sandwiches make for an excellent lunch! They are topped with strips of sweet red pepper and creamy herb yogurt sauce.
Salads are an excellent way to get vitamins and nutrients—and they're also fun, vibrant, and very tasty! This particular recipe makes a Nectarine and Avocado Salad with Ginger-Lime Dressing that is light and refreshing. It is an excellent salad with a beautiful dressing!
This bright, vibrant salad is delicious. It's juicy and satisfying with massive flavor! This Spring Berry Salad with Lemon Verbena Vinaigrette is very quick to prepare and very healthy.
This Vegan Chopped Power Salad with Almond-Miso Dressing is tossed with amazing healthy ingredients such as cashews, hemp hearts, and a perfect almond-miso dressing. This recipe makes a substantial salad that is packed with healthy food!
The base of this lunchbox recipe is a grain—use your favorite kind! You can try quinoa, millet, or cauliflower rice. This Lunchbox-Friendly Mexican Cauliflower Rice Salad can be served both hot or cold, perfectly convenient for lunch!
This Cauliflower and Chickpea Salad is packed with a tasty crunch. In this recipe, you'll find healthy vegetables like cauliflower and bell peppers. The salad is tossed with a homemade dressing made of olive oil, maple syrup, mustard, salt, and pepper.
This delicious Vegan Thai Tofu and Noodle Salad is made with tofu, cucumbers, carrots, and more! Tossed in a spicy soy dressing with red pepper flakes, this salad is a great blend of sweet and spicy.
This Vegan Queso can be used as a dip or as a topping. To pack it for lunch, I'd recommend keeping it as a dip and packing your favorite tortilla chips to go along with it. This queso is dairy-free and made with delicious cashews!
Mac and cheese is delicious any time of day! This savory Baked Vegan Mac and Cheese is rich and creamy with an overloading of cheese! Pack this dish in a Thermos to keep it warm until lunch.
This sweet and smoky Mango-Chili Tofu Stir-Fry is a great dish to pack for lunch. This dish is chewy, crispy, and soft, making it a delight to explore all the textures! The best part of this recipe, though, is that it only requires five minutes to prepare!
This Freekeh, Zucchini, and Pistachio Salad is a great choice for lunch. This dish is very high in protein and fiber, tossed with a fresh light dressing, and very tasty and healthy!
Smoky black beans and caramelized onions unite in this quesadilla recipe. Kale and Sweet Potato Quesadillas are a great lunch to pack—and this recipe in particular is very healthy! However, this meal does take a bit of time to prepare, so make sure to plan ahead.
These Vegan Barbecue Tempeh Sandwiches are super tasty and—even better—super easy to make! They have sixteen grams of protein and will keep you satisfied and content until supper.
This entire recipe comes together in under thirty minutes—including baking times! These Oh-So-Easy Broccoli Cheddar Pot Pies have a delicious fluffy crust. They bake until they're golden brown and are incredibly satisfying.
This mouthwatering Basil White Bean Dip and Sandwich Spread is nutrient-rich and delicious. Made with cannellini beans and garlic, the bean spread is incredibly aromatic.
These Cashew Tofu Quinoa Bowls feature delicious chopped vegetables and are topped with crunchy cashews. Tossed with a dash of delicious rice vinegar, honey, Tamari, and sriracha, this recipe makes a delicious lunch!
Fill your Thermos with this delicious Sweet Corn and Coconut Milk Chowder for lunch! This chowder is sweet, spicy, rich, and creamy. It's also absolutely mouthwatering and refreshing.
This Bell Pepper and Corn Pasta Salad is juicy and refreshing. Filled with luscious sweet corn and succulent bell peppers, this is a great salad to take for lunch.
This juicy and vibrant Grilled Strawberry and Cucumber Salad will be a delightful treat in your lunchbox. It's sweet, savory, and very rich in nutrients and vitamins.
These Spinach, Roasted Garlic, & Butternut Squash Grilled Cheese Sandwiches are filled with ooey-gooey deliciousness. Loaded with melted cheese and veggies, these sandwiches are actually very healthy!
This recipe makes a delightful, summery Caprese Orzo Pasta Salad with Blueberries. It's vibrant, refreshing, and filled with anti-oxidants and other helpful vitamins and nutrients!
This Green Bean Summer Salad makes for a delightful lunch! It's tossed with chickpeas, corn, tomatoes, and green beans. This salad is also low-calorie and made with a mouthwatering fresh herb dressing.
Sweet, juicy, and tossed with a delightful vinaigrette dressing, this Corn Salad makes for a wonderful lunch. Tomatoes, cucumbers, and sweet corn combine to create this healthy, nutrient-rich salad.
Reader Interactions